Chicken Satay Skewers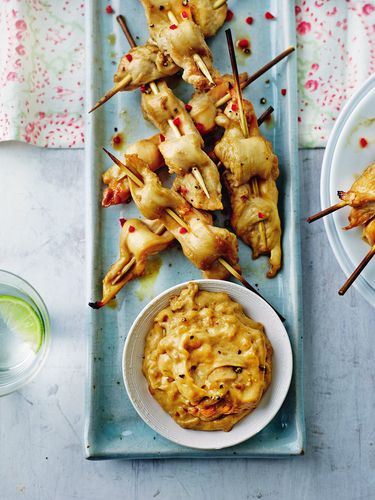 A kid-friendly recipe that adults will love too – and so easy to make.
PREP: 15 MINS, PLUS SOAKING AND MARINATING TIMES
COOK: ABOUT 15 MINS
Cook time
15 min
For how many?
Makes 5 portions
Ingredients
2

chicken breasts

10

bamboo skewers

For the marinade:

small piece of fresh ginger

1

garlic clove

juice of 1 lime

1 tbsp

soy sauce

1 tbsp

runny honey

1 tsp

peanut butter

For the sauce:

100g (4oz)

peanut butter (crunchy)

5 tbsp

coconut milk

1 tbsp

sweet chilli sauce

1 tsp

soy sauce
Instructions
1. Soak the skewers in water for 30 minutes to stop them from scorching when you grill them.
2. Mix the marinade. Peel and grate the ginger (you should have about ¼ teaspoon), crush the garlic and put in a bowl along with the lime juice (set 1 teaspoon of the lime juice aside for later use), soy sauce, honey and peanut butter and whisk together.
3. Put the chicken breasts into a sealable polythene bag or cover with clingfilm and use a mallet or rolling pin to bash the chicken breasts until they are about ½ cm (¼ in) thick. Slice each chicken breast into 5 strips, add to the marinade and leave to marinate for about 30 minutes.
4. While the chicken is marinating you can make the sauce. Put the peanut butter, coconut milk, 5 tablespoons of water, the sweet chilli sauce and soy sauce in a small saucepan. Warm gently, stirring constantly, until everything has melted. Simmer for 1–2 minutes until the sauce thickens. Remove from the heat, then stir in the leftover lime juice and set aside.
5. Preheat the grill to medium-high. Thread the chicken strips onto the soaked skewers and put on a foil-lined baking sheet. Grill each side for about 5 minutes or until the chicken is cooked through. Serve with the dipping sauce.