Chicken Goujons Wrapped in Parma Ham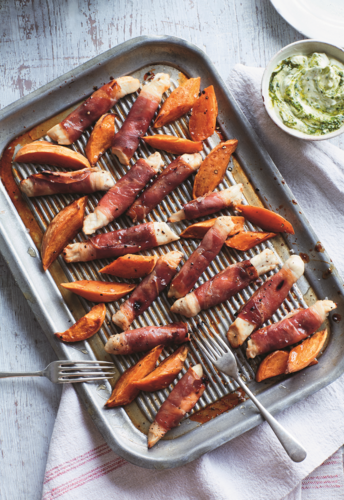 Chicken Goujons Wrapped in Parma Ham from Annabel Karmel's Busy Mum's Cookbook.
For how many?
Makes 14 goujons
Ingredients
2

large skinless chicken breasts

7

slices Parma ham

2 tsp

runny honey

Salt and black pepper

For the sauce:

200g

crème fraiche

2 tbsp

fresh green pesto

Squeeze of lemon juice
Instructions
1. Preheat the oven to 200C/400F/Gas 6 and grease a baking tin.
2. Place the chicken breasts on a board. Cover them with clingfilm, then bash them with a rolling pin until they are slightly thinner. Remove the clingfilm and slice each breast into 7 goujon-shaped strips.
3. Cut each slice of Parma ham in half. Wrap each goujon in a piece of Parma ham, then place on the prepared baking tray. Drizzle over the honey, then roast for 10 minutes, until cooked through and crisp.
4. Mix together the crème fraiche, pesto and lemon juice and season. Serve hot (heated through in a small saucepan) or cold with the crisp goujons.