Chana Palak Curry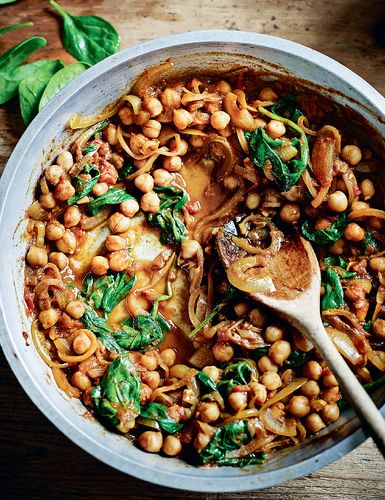 This simple curry is packed full of spinach and chickpeas which makes it both nutritious and economical. I often order it as a side dish when I push the boat out and have a curry at my local Indian but it's more than a vegetable accompaniment and makes a great meal in its own right. Serve with a portion of brown basmati rice and some yoghurt for a little hit of protein.
Ingredients
1 tbsp

coconut oil

1 tsp

ground cinnamon

1 tbsp

garam masala

1 tsp

cayenne pepper

1 tsp

ground turmeric

2

onions, sliced

4

garlic cloves, chopped

2 tbsp

grated fresh root ginger

2 × 400g

cans of chickpeas, drained and rinsed

400g

can of chopped tomatoes

1 tbsp

tomato purée

200ml

vegetable stock

1

bag of baby spinach

Greek yoghurt, to serve
Instructions
1. Heat the coconut oil in a large pan over a medium heat, throw in the spices and cook them for a minute. Add the onions, garlic and ginger and continue cooking for 5 minutes.
2. Add the chickpeas, tomatoes, tomato purée and stock to the pan and bring everything to a simmer, then continue cooking for 10 minutes. Add the spinach to the pan and stir until the leaves have wilted. Serve with a dollop of Greek yoghurt.