Chana Daal with Scallops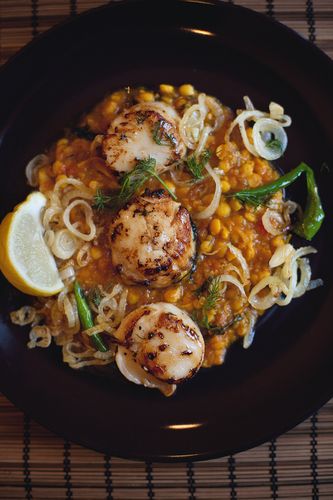 Chana Daal with Scallops from Monir Mohammed's Mother India at Home cookbook. This delicious Indian recipe uses juicy scallops, chana daal and green chillies and is perfect when served with chapatis.
Ingredients
100g

chana daal (split yellow gram lentils)

1 tsp

salt

¾ tsp

red chilli powder

½ tsp

ground turmeric

1 tbsp

sunflower oil

1

medium onion, sliced

3

cloves of garlic, sliced

1

green chilli, sliced lengthways

15g

butter

½ tsp

cumin seeds

4

cloves

1

small cinnamon stick

¼ x 400g

tin of tomatoes

a few leaves of fresh coriander

½ tsp

black peppercorns, crushed

2 tbsp

light olive oil

6

scallops, without their shells or coral
Instructions
1. Soak the chana daal in lukewarm water for 1 hour. Drain, then put the daal into a medium saucepan and add 600ml cold water. Bring to the boil, skimming off any froth that gathers on the surface, then add the salt, chilli powder and turmeric, reduce the heat and simmer for 25 minutes, or until the chana daal is cooked through.
2. Heat the sunflower oil in a pan and add the onion. Cook gently for 5–10 minutes, then add the garlic, green chilli and butter. After another 3 minutes remove about a quarter of the onion mixture and reserve this for garnish. Add the cumin, cloves and cinnamon stick to the pan and stir thoroughly. Cook for 2 minutes, then add the tinned tomatoes. Cook for a further 2 minutes, then add the contents of this pan to the pan of daal. Cook, stirring, for a final 10 minutes (or until the lentils are soft to the touch), then add the coriander leaves and season with the black pepper.
3. Meanwhile, heat the olive oil in a separate pan. When it sizzles, add the scallops one at a time, searing them for 30 seconds on one side and 20 seconds on the other. Serve the seared scallops with the daal and garnish with the reserved onion. Accompany with chapatis.